Wonders of the Ocean: From Bioluminescence to Marine Mammals
Instructors:
Burcak Artun, PhD
UCSC Department of Microbiology and Environmental Toxicology
Shawn Noren, PhD
UCSC Institute of Marine Science Department
Prerequisite: None
Preferences: Algebra 1
Summary: Located in one of four major upwelling regions of the world, the Monterey Bay is a wealth of marine biodiversity. This cluster will give students an active-hands-on approach as we explore the local marine bacteria and charismatic megafauna (marine mammals) that call Monterey Bay "home". Students will spend time in the laboratory to learn basic micro and molecular biology techniques, and apply them to analyze various bacteria found in the local water sources. Students will also go into the "field" to investigate the life history, physiology, and conversation of marine mammals (seals, sea lions, dolphins, whales, and sea otters) living just off our shores. This cluster will provide students with insights into how scientists study the diverse group of creatures that form our marine ecosystems.
All students in this cluster will be enrolled in the following courses: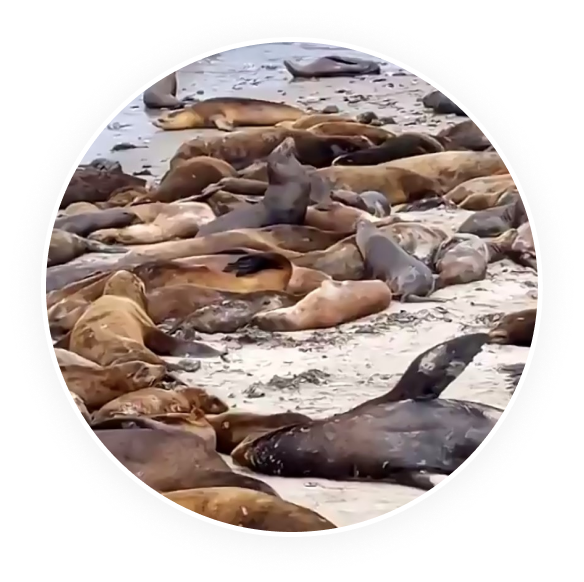 Similar to humans and other terrestrial mammals, dolphins and seals must breathe air and maintain a stable core body temperature in order to survive. Yet living in the ocean creates a paradox: marine mammals must hold their breath to forage and their aquatic environment rapidly steals body heat. Over evolutionary time, marine mammals have acquired amazing physiological adaptations to endure these challenges. In this class we will explore the life history, physiology, and conservation of this fascinating group of mammals. Field trips with real scientists will bring us to Año Nuevo and Long Marine Laboratory to participate in a necropsy of a marine mammal and watch how scientific data is collected on live dolphins, and the Marine Mammal Center (a marine mammal hospital to rehabilitate sick and injured wild marine mammals).
From Water Pollution to Bioluminescence: The Wonders of Bacterial Diversity Around Us
Water pollution can cause harm to the ecosystem of the ocean around us by destroying marine organisms. The pollution of our beaches can also create a very undesirable environment for people, causing multitudes of health problems. In this course, students will learn about water pollution, and investigate the sources of bacterial contamination of our beaches and streams. Students will start by learning the basics of microbiology laboratory techniques. Then, samples will be collected from locations in and around Santa Cruz by looking at real-time data from water monitoring sites. Sources of this bacterial contamination will be identified by molecular techniques such as DNA extraction and PCR.
In a completely different project, students will investigate light-emitting bioluminescent bacteria that are found in the ocean in marine animals such as fish and squid. Luminescent bacteria will be isolated from squid, analyzed, and antibiotic resistance of the isolated bacterial species will be investigated. Students will have fun creating bioluminescent bacterial art in a petri dish.
At the end of the course, students will develop an appreciation for the natural water sources around us, and an awareness of bacterial diversity. They will possess a deeper understanding of how to critically analyze data, and make connections to real life examples.